gerry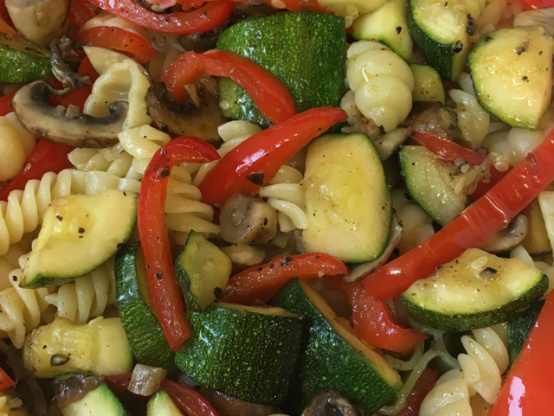 I add more parsley than the recipe calls for, cause I prefer it.

This is a wonderful pasta dish! Nice and light, perfectly seasoned and not overly-cheesy. I couldn't find the pinwheels so I used medium-sized shells. This is a simple dish made with things I always have on hand, so it makes a great easy lunch or quick week-night dinner. Thanks for posting this recipe!
Bring a large saucepan of water to the boil, and add the pin wheels with a dash of olive oil.
Cook for about 10 minutes, stirring occasionally, until tender. Drain and set aside.
Heat the sunflower oil in a large frying pan, and sauté the garlic for 2 minutes. Add the mushrooms and courgettes and cook covered, for 5 minutes, or until softened.
Stir the chopped parsley and vegetable stock into the mushroom mixture, and continue to cook, covered, for a further 10 minutes. Add the pinwheels, and stir in the grated cheese.
Preheat the oven to 200C (400F and Gas Mark 6).
Transfer the pasta mixture to a deep casserole dish, and bake for about 20 minutes.
Serve with warm, crusty bread.