Pinto Beans With Ham for the Crock Pot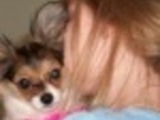 I used to spend all day cooking a pot of beans and watching them carefully so they didn't burn. The crock pot solves that problem. Serve a big bowl of these with big piece of cornbread...That's good eating.
Directions
Cover beans with water and soak overnight; drain.
Place beans in a 6 quart crock pot with water and remaining ingredients except salt. Cook on low setting for 8-10 hours, or until beans are soft and done. Stir a couple of times during cooking, if possible. Add salt after beans are done. Cooking salt in the beans will make them tough.
Note: The jalapenos will give your beans a bit of heat. You can control how hot you want them by the amount of pepper you add. If you want no heat, replace the jalapeno with 2 tablespoons of chopped green bell pepper.
Most Helpful
I was looking for recipes using ham and just couldnt resist this recipe. We love pinto beans..This recipe is awesome...I made homemade tortillas to eat with the bowls of beans the first night..The next night, I made refried beans out of the pinto beans and made more tortillas and rolled them up,made great tasting burritos.I had tortillas and beans still leftover and Made more burritos and froze them for future lunches(wrap each burrito in wax paper,place in freezer bag, to thaw remove wax paper and roll in paper towel and microwave 1-2 minutes)...Didnt need any hot sauce..The spices in the beans were hot enough...I will make this recipe alot,but forget the ham it does nothing for the beans and really can't taste it anyways...HIGHLY RECOMMEND this recipe if you like spicy beans .Thank U for this great recipe....
GREAT! I ALWAYS cook mine in a crockpot, since I work all day and don't have the time to watch and stir them as I should. This is the same receipe I have used for 25 years and NEVER the 1st complaint. Thanks for posting it.

This was an excellent recipe. I took out all the spicy items - yes, all - so that my boys would eat the beans (they are 3 & 4 years old). They LOVED this recipe. I used a big ham steak and followed the recipe. I was worried about it being bland, so I went heavy on the cumin and other spices, but it was delicious! I ate more than I should have because they were so yummy.