Pinto Beans and Ham Hocks
Nimz1466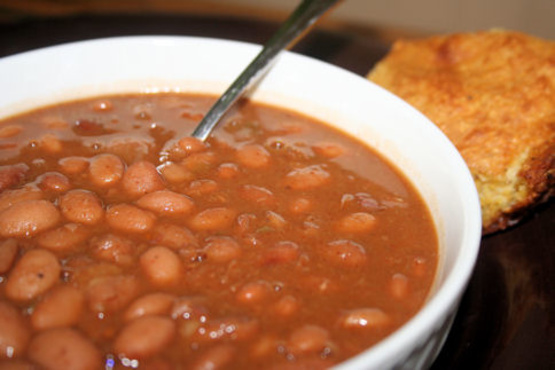 Note: To speed up cooking of beans and reduce the gas beans produce, soak beans in cold water overnight or for three hours during the day. You can also use the ham hocks as your meat side dish. However, ham hocks are a high-fat food.

This is my favorite Pinto Beans recipe...I only use one LARGE ham hock though. I boil my ham hock for about 30 minutes with minced garlic and onion. This is the 'broth' I use to cover my beans in the crock pot! I use all of the listed seasonings + hot sauce (my favorite part) and these beans are to die for! My whole family loves them - definitely no left overs :)...I like to add a tablespoon of vinegar to my OWN personal bowl. Served with a side of skillet cornbread & dinner is served! Thanks for this awesome recipe Gaelige Coinnaigh!
Boil ham hocks on high heat for 45 minutes.
Add all seasonings except hot sauce and onion. Continue boiling for 20 minutes.
Add pinto beans, hot sauce, and onion. Boil on medium heat until beans are done to taste (usually I go for about 1 1/2 hours).
Serve with rice and a meat side dish. Tastes even better the 2nd day!