Pinto Bean, Fresh Corn and Tomato Salad
Parsley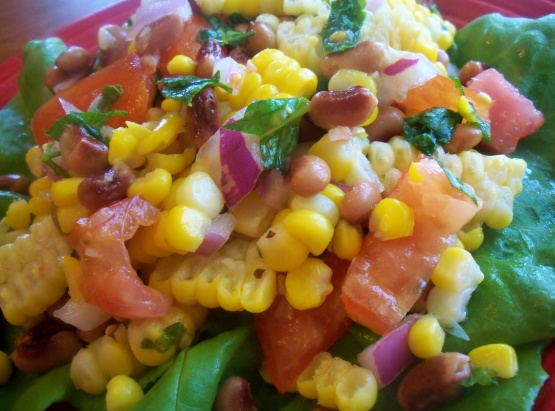 Great salad to bring to a BBQ, adds wonderful flavor to grilled dishes. Making it with fresh corn is what makes it so delicious!

Excellent. I made this with sun dried tomatoes, frozen corn, regular onion and freeze dried basil. I also added a little sugar to the dressing, our preference. It was crisp, just the right amount of tang and a compliment to our dinner. Thanks for the recipe. Carole in Orlando
Wash and drain the pinto beans, chop the tomatoes, onion and basil.
Grill fresh corn on the bbq or outdoor/indoor grill until done.
Cut off the kernals into a bowl.
In the same bowl, combine the corn kernals, the pinto beans, tomatoes, onion and basil in large bowl.
In a seperate small bowl whisk olive oil, lemon juice, parsley and garlic to blend.
Pour the dressing over the corn mixture and stir to combine.
Season with salt and pepper.
Serve at room temperature.
This dish can be made 4 hours ahead, just cover and chill.