Pinto Bean and Cheddar Patties
loof751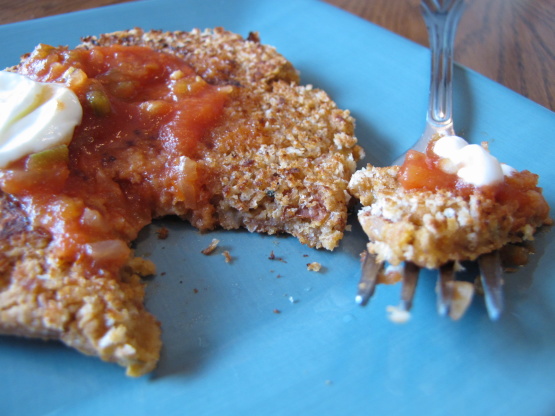 This is another recipe I found in the mag. SELF. For those watching calories this is what was printed in the mag. "322 calories per serving, 8.9 g fat (1.2 g saturated), 41.8 g carbs, 7 g fiber, 19 g protein"

Top Review by Mudpie
The flavor was great, but the patties just fell apart. Cooked the first two in the skillet (fell apart)the next two just heated them up in a bowl in the microwave. No dought about it, I did like the flavor. Just wish the pan fried ones would have stuck togeather (like a burger).
Heat broiler.
Place 1 1/2 cups breadcrumbs on a baking sheet and toast under broiler for several seconds or until browned. Remove; let stand 5 minutes.
Mash beans in a mixing bowl. Add cheese, chile, toasted breadcrumbs, chili powder, cumin, oregano, and salt and pepper to taste.
Form mixture into 4 patties about 3 inches across. Dredge patties in remaining 1/2 cup untoasted breadcrumbs.
Heat oil in a medium sauté pan over medium heat. Cook patties until crisp and golden brown, 3 to 5 minutes per side. Serve hot with 2 tbsp fresh salsa.