Pink Sweeties (Pretty Pink Almond Cookies)

These pretty, pink and white swirled, iced almond cookies came from the Woodbine Cottage in Granbury, TX (via my friend, Victoria!). They have a nice almond flavor, they keep well, and they look so pretty! I think they'd be nice for a baby shower, or for Valentine's Day, because of their pink color. (Note: I find this dough to be rather stiff, and recommend using a heavy-duty mixer.)
Directions
Cream the butter and sugar, adding eggs, one at a time.
Add the rest of the cookie ingredients.
Add a few drops of red food coloring to the dough, and swirl through mixture.
Thoroughly chill the dough, before rolling it into balls, and placing them on a greased cookie sheet.
Flatten balls slightly, and bake for 14 minutes in a 350 degree oven.
Mix glaze ingredients together, and pour over slightly warm cookies.
Let dry, and store in a tightly sealed container.
Most Helpful
I almost forgot to review this. I made these with the 4-H girls. We had so much fun making these and the turned out just beautiful. They didn't last long. They had a great taste. It will be a cookie recipe that I will make again. Thanks for the recipe. Made for Think Pink Oct 09
These came out beautifully for me! They're disappearing fast too so I had to hurry and get some iced so that I could get a photo to post LOL. They taste wonderful! We love the almond flavor in and on these. A keeper recipe for sure, and did I mention they're very pretty too? Made for Think Pink Oct 09.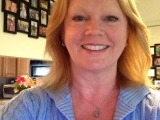 I don't give this stars because I changed too much to judge the original taste :) To make it gluten free, I used a gluten free flour mix, and to make it fructose free, I used rice syrup instead of sugar - and only one cup, because otherwise they would have been totally soggy. This got so sticky it was absolutely impossible to swirl anything, so I decided to make a pink glaze! All in all I like them a lot, they taste delicious, and I'm sure that the "original" would be even better :) Made them for Think Pink tag game October 2009. Thanks for posting this!