Pink Mediterranean Pasta Sauce
katew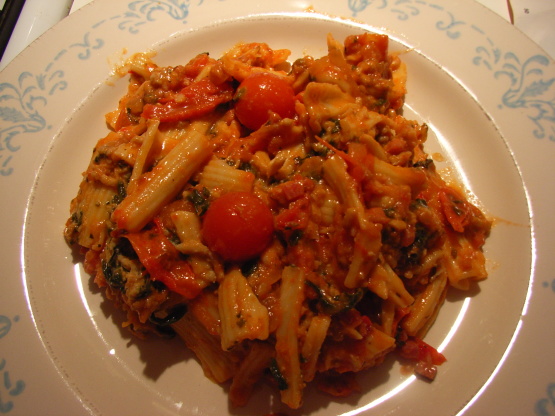 This is a truly delicious pasta recipe! It is quite fast and easy, and a wonderful dish to serve to guests. Coarse salt is a must. Modified slightly from "The Mediterranean Vegan Kitchen."

Top Review by katew
Great mid week dish ! I used a punnet of cherry tomatoes plus a few sundried to make up the tomato quota. also added fresh herbs from the garden. I blended it with a stick blender so all good !! made for ZWT6.
You can make this sauce ahead of time, and it actually tastes better the next day. Only cook enough pasta for the day you are serving it, and serve any leftover sauce with freshly cooked pasta.
In a skillet, soften the onion in a little water over medium heat. Add the oil and garlic, and saute them, stirring often, till they are starting to caramelize.
Add the tomatoes, pepper, crushed red pepper and salt/pepper if desired. Raise heat till juices are bubbling. Then turn it down to low and simmer 15-20 minutes, till the bell pepper is well-softened.
In the meantime, start your pasta cooking in a large pot.
Transfer the mixture to a food processor and blend, adding a few tablespoons of stock or water as needed to make a smooth sauce. Return to the skillet, stir in the basil, cover and keep warm.
Drain pasta and return it to the pot. Pour in the sauce and stir to coat. Serve with a sprinkle of coarse salt and freshly ground black pepper, and a salad.