Pink Grapefruit Sorbet With Lavender!
Rita1652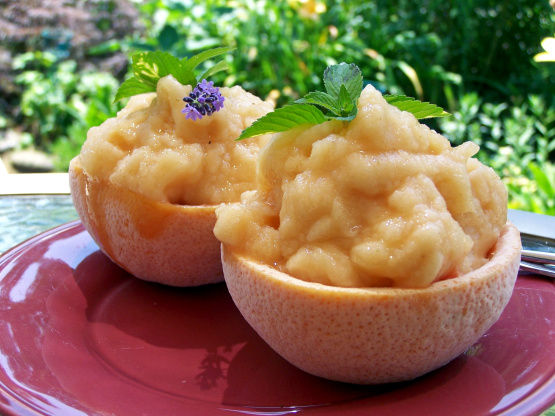 A refreshing end to any meal. Or use to refresh the palate in between courses.
Brava, Rita! Wonderful! It even formed the basis for a new cocktail that our Italian cooking/study group invented: "L'Ultima Notte a' Pompeii." ("The last night in Pompeii"). Put two small round scoops of this sorbet into a champagne flute, pour in some bubbly prosecco, and watch it foam up like the lava from Mt. Vesuvius! ("Grapefruit" in Italian is "pompelmo," which even sounds like "Pompeii"! Thanks for a great recipe.
1

teaspoon fresh lavender (flowers and or leaves)

1

cup sugar

1

tablespoon lemon juice

1

tablespoon Grand Marnier (optional)
lavender flowers, mint leaves (to garnish)
Using a vegetable peeler, remove the zest (colored part) from the peel of one grapefruit.
Coarsely chop the zest.
In a food processor bowl or blender, combine chopped zest,lavender and sugar.
Cover and process or blend until zest is very finely chopped.
Squeeze enough juice from the grapefruit to make four cups juice; pour into a mixing bowl.
Add zest mixture, lemon juice, and, if desired, Grand Marnier.
Mix well.
Freeze the grapefruit mixture in a 2- or 4-quart ice cream freezer according to manufacturer's directions.
Makes one quart or eight (half-cup) servings.
Or freeze in small containers till almost frozen and blend in blender to make a slush.
Top with mint leaves.