Bayhill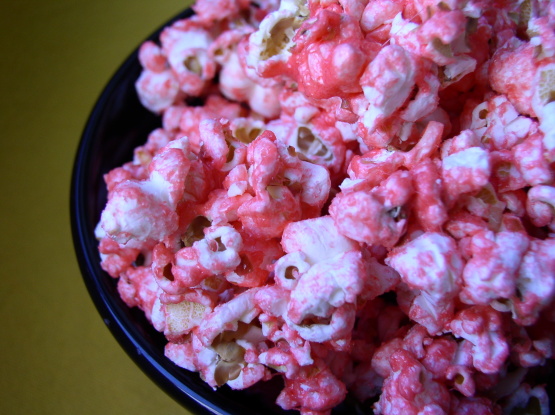 I found this recipe from kitchencraftsnmore.net. It sounds really good!
Delicious! This quick and easy popcorn reminded me of the jello popcorn balls my mom used to make when I was a kid. I used large marshmallows (cut into 1/4's) because I didn't have miniature marshmallows. Also, this made plenty of syrup so I used 12 cups popped popcorn. My family really enjoyed this. I'll be making this in other flavors as well. Thank you for sharing. *Made for Think Pink tag game*
Melt butter over low heat.
Stir in marshmallows until they are soft but not melted.
Add flavored gelatin mix.
Stir until everything is a nice pink color throughout.
(The gelatin may not dissolve completely, but that's all right.) Pour evenly over popcorn and stir until all flakes are evenly coated.