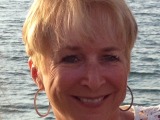 This cocktail was taken from a recent issue of Coastal Living. Credit goes to writer and recipe developer Julia Rutland.
1 3⁄4 liters raspberry lemonade (recommend Simply Lemonade)
1 3⁄4 cups coconut rum
1 cup amaretto liqueur
Directions
Combine all ingredients in a large pitcher. Stir well and serve over ice.
Reviews
Most Helpful
Drank a couple and maybe that's why I just vaguely remember these being so good.

My friend gave me this recipe several months ago and I only recently got around to trying it. It's very good as written, however, I made a pitcher using Simply Lemonade with mango which I liked much better - it became an orange bikini ;) . I made it using Captain Morgan's Parrot Bay coconut rum. I'd make this again - it's quick, easy and tasty.
Perfect for watching a sunset over the water! Thanks!!