sheepdoc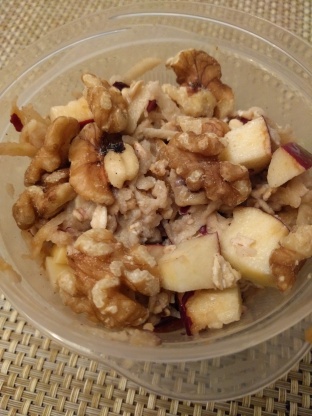 Not overpoweringly sweet, this breakfast has tasty fall flavors. When pink lady apples are available and at their best, use them for a wonderful flavor in this muesli.
The night before, mix the oats and spices together in a bowl, then add the soymilk.
Add the pecans too if you want to soften them a bit.
Cover and refrigerate overnight.
In the morning, grate 1/2 the apple (no need to peel) and stir it into the oats, along with pecans if you didn't add them yet.
Stir in yogurt if desired.
Dice the other half of the apple and dump it on top.
Add the cranberries if you want a sweeter muesli. You can either add them the night before, or soak for 2-3 minutes in hot water to cover,drain and sprinkle them on in the morning. (They'll make your muesli really pink!).