Hanka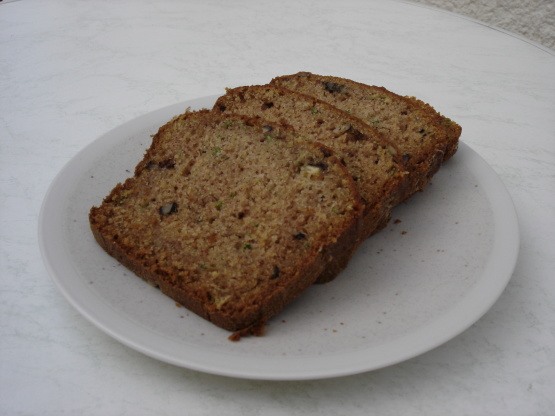 This recipe was recently "found" again. It originally came from my Mom who got if from someone about 30 years ago. I made it with whole wheat flour and no nuts (hubby & daughter are allergic) and it won first place in our 61st annual Fall Fair this year. (2006)

Just the recipe was looking for. I used the whole wheat flour and substituted Stevia sugar for 1/2 the sugar called for. Tastes great! Will make often.
Beat eggs until light and fluffy.
Add sugar and beat until blended.
Stir in oil, vanilla, zucchini, and pineapple.
Sift dry ingredients and stir into egg mixture along with nuts.
Bake in two greased loaf pans (8.5 x 4.5 x 2.5)at 350 degrees for 50 minutes.
**Note: The loaf in the photo has been made with 100% whole wheat flour and instead of nuts I added raisins. I also doubled the recipe. The zucchini was previously grated and frozen so juice and all was added -- I had extra zucchini so a bit extra was added.