Jostlori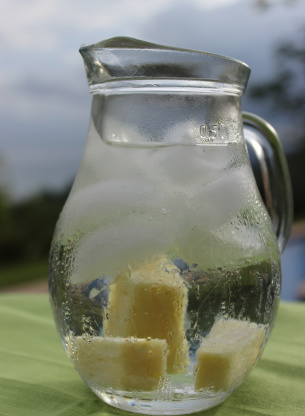 When I was in Hawaii, the hotel I stayed in always had a large dispenser of this water in the lobby, to help rehydrate the guests after they spent too much time on the beach. I found it to be much more refreshing than plain water, as the fruit adds a very subtle sweet taste. A great recipe if you're trying to get more water into your diet. This will not taste like fruit juice, it's meant to be a very lightly flavored water. If you don't have a large drink dispenser, try making 1/2 recipe in a sun tea jar.

Top Review by lazyme
What a great idea this is! I used pineapple slices in the bottom of a pitcher and filled it up with water and ice. This was really refreshing and a nice change from lemon water. Great for a nice warm day. Thanks Ingrid for a nice treat. Made for ZWT7 by a fellow Emerald City Shaker.
Slice pineapple, and place in a large drink dispenser with a serving spout at the bottom.
Add the ice and water.
Chill.