teresas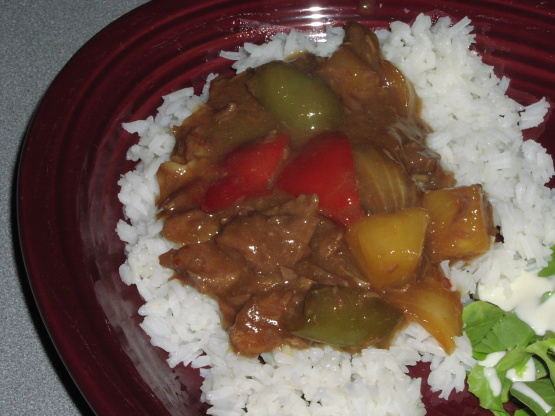 Really simple crock pot dinner! Serve with rice. 5 pts.

I doubled the sauce ingredients, added 1/2 lb of meat added one red and one yellow pepper, two onions and portabella mushrooms and instead of using the crock-pot simmered it on the stove for an hour and a half. Came out fantastic! Boyfriend was so enthusiastic about this being his birthday dinner. He can't wait for leftovers...lol
Cut meat into 1/8-inch slices and place in a slow cooker.
In a small bowl, combine soy sauce, reserved pineapple juice, gingerroot, sugar oil and garlic.
Pour sauce mixture over meat. Cover and cook on LOW 6 to 7 hours.
Turn control to HIGH. Stir in pineapple. Combine cornstarch and water in a small bowl; add to cooker.
Cook, stirring, until slightly thickened.