Pineapple Sticky Pork Chops
PaulaG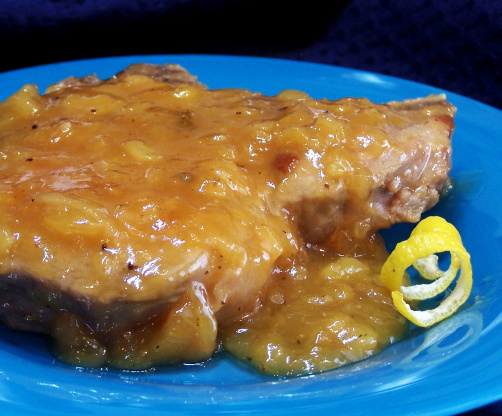 This was created for Ready, Set, Cook # 10. Once I convinced my husband that all pork does not automatically raise your blood pressure, I started trying different pork chop and pork loin recipes. I found that so many other recipes called for cooking the pork chop for what seemed like an exceptionally long time. This has a fairly short cooking time and with the help of the pineapple sauce, it stays juicy and flavorful.

Top Review by Gerry
Delicious! We enjoy pork chops and I can vouch for the fact that not all chops are created equally - my way of saying I know some require more cooking than others to become tender and juicy. It's so often not the recipe but the meat itself that makes for less than tender chops.I seared and cooked them longer, then baked in that lovely sauce - made for a wonderful evening meal. Not having the Dijon mustard on hand I subbed with the Sweet With Heat a mustard we all love - next time I will use the Dijon and I'm sure we will enjoy it just as much!
Preheat oven to 350 degrees.
In a bowl combine all ingredients (except the pork chops and vegetable oil) and set to the side.
Heat the oil in a heavy bottom oven proof skillet until the oil shimmers.
Pat the chops dry and add them to the hot pan.
Cook for two minutes on the first side, flip the chop and cook for an additional minute.
Transfer the chops to a plate.
Pour the excess oil out of the pan (but don't wipe the pan out).
Add the sauce mixture, scrape up the browned bits on the bottom of the pan.
Simmer the sauce over medium heat, stirring frequently until sauce is thick and glossy, about 4- 5 minutes.
Take the pan off the heat and add the pork chops to the pan, turning to coat in the sauce.
Place the skillet in the oven and cook for 15 minutes.
Spoon the sauce on top of the pork chops and serve.