Rita1652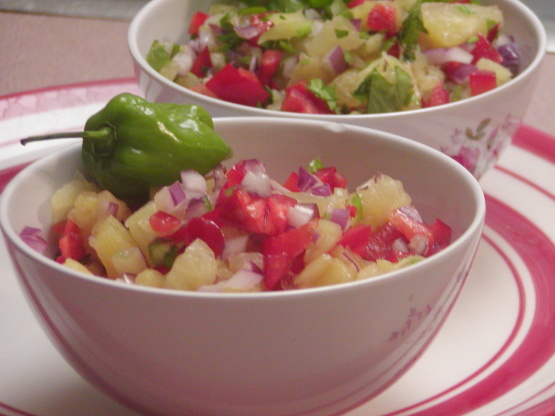 This gorgeous salsa has no tomato, so it keeps well at least overnight. It's just the ticket to add glamour to grilled pork, fish or chicken burgers. From Chatelaine trusty triple tested recipes. Cooking time is refrigeration time.

Just made this to top the Hawaiian Chicken & Coconut Rice I'm making for dinner tonight. Very easy & fresh tasting. Didn't have a red onion, just used a white onion and it delicious!
Chop pineapple into small pieces to measure a total of 2 cups.
Core and seed pepper, then chop into pieces the same size as pineapple.
Finely chop onion and coriander/cilantro.
Place all in a bowl.
Stir in lime juice, oil and salt.
Serve right away or refrigerate.
Delicious with burgers, chicken, steaks or pork.