Pineapple Rice Cream Salad
Kaarin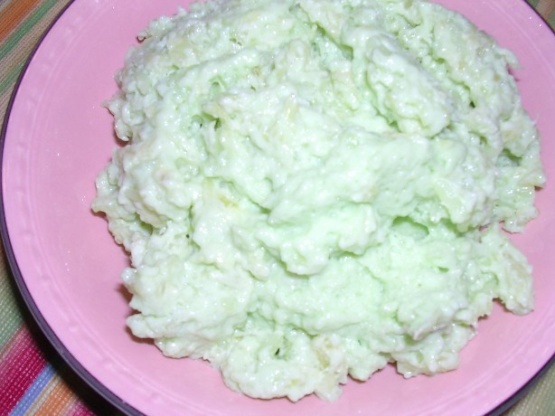 A sweet and fluffy Jello salad. The rice and pineapple add interesting texture. This is a great summer salad! The recipe is adapted from a local cookbook, contributed by a New Zealand foreign exchange student. Cook time is chill time.

Followed recipe exactly and got a very different jello salad. Really nice and so different. Sort of a cross between rice pudding and lime jello, but with a custardy twist. I don't have small children, but I bet they would love this. Thanks for sharing.
Dissolve Jello gelatin in boiling water; add pineapple juice and refrigerate 1 hour to cool. Also chill the condensed milk for 1 hour.
Beat the condensed milk till thick (I use my kitchenaid mixer on high for 5 minutes.).
Beat Jello till light and fluffy (about 3 minutes with a mixer), then add condensed milk.
Fold in rice and well drained pineapple. Chill at least 1 hour.