diner524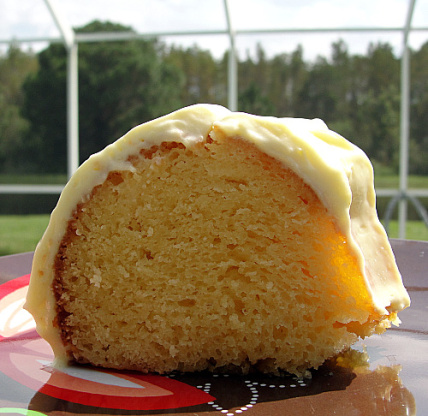 This is one of Sandra Lee's Semi-Homemade recipes. She's one of my favorite cooks because she makes so many recipes that are very easy, inexpensive, and delicious.
What a wonderful moist cake, yet so simple to get together!! A nice fruity flavor and the frosting isn't overly sweet!! I followed the recipe to the "T" except that I used less of the soda, as it started pooling in the center. Thanks for sharing your the recipe!!! Made for PAC Fall 09.
Preheat over to 350°. Spray a fluted tube cake pan with nonstick cooking spray.
In a bowl, combine cake mix and 3 tablespoons of the dry instant pudding.
Add pineapple juice, butter, and eggs; beat with electric mixer on low speed for 30 seconds. Scrape bowl; beat on medium speed for 2 minutes more.
Pour batter into prepared pan. Bake for 40 to 45 minutes or until wooden toothpick inserted comes out clean.
Cool the cake in the pan.
Make Icing by combining sour cream and the remaining dry instant pudding; beat with electric mixer on low speed until smooth.
Gradually add the powdered sugar; beat until smooth.
Remove cake from pan; place on plate.
Using a skewer, poke holes in the cake top. Slowly pour pineapple soda over holes (using more or less as desired).
Spread icing over cake.