Pineapple-Plantain Fritters
KristinV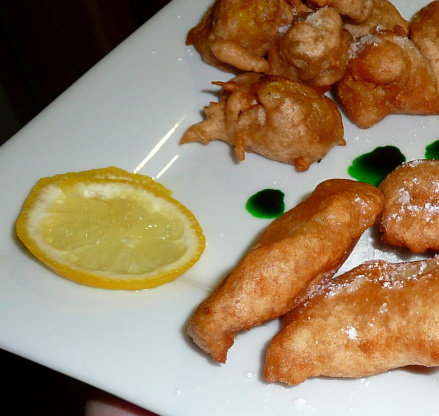 A tropical twist on the traditional fritter. Crunchy, fresh and delicious, I hope you like it. Enjoy!

Top Review by Pneuma
Good day! I'vebeen eyeing this the past few days and I'm glad I finally made it. I simply mixed all ingredients upping it a bit by adding also a 1/2 tsp of allspice, a tbsp of rum, 1/4 tsp jamaican seasoning. I had excess thinning batter at the end of frying the plantain/pineapple mixture, so I threw in a few cherries too. Instead of using all brown sugar, half was cane sugar, half was brown sugar. I tried to make a sauce with it with sugar and 2 coconut milk but wouldn't suggest it. So I just ate it as is. So delicious and sweet. Would be making this again. Made for zwt5.
Place plantain in medium saucepan; pour water over to cover. Boil plantains for 10 minutes. Drain well; transfer plantains to paper towels to absorb moisture.
Stir together flour, sugar, baking powder, cinnamon, and nutmeg, in medium bowl. Whisk together milk and egg; add to flour mixture. Mix until smooth. Stir in plantain and pineapple until blended.
Pour oil into deep saucepan or skillet to depth of 1-1/2 inches. Heat to 375ºF.
Drop batter by tablespoonfuls, a few at a time, into hot oil. Fry fritters for about 2 to 3 minutes or until golden brown, turning once with slotted spoon.
Transfer fritters to paper towels to drain. Sprinkle powdered sugar over them, if desired. Serve warm.