Pineapple Onion Smothered Chicken
Food.com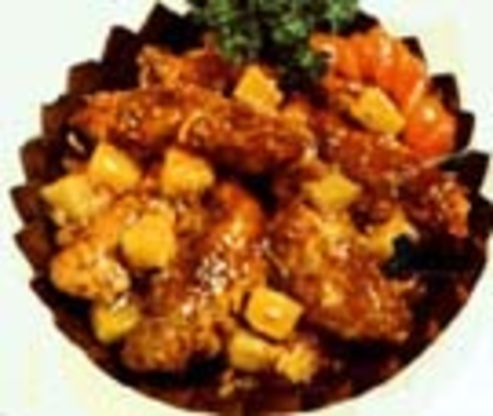 Another quick chicken dish, originally on the flap of a Lipton Onion Soup Mix box. It's really simple, quick and delicious...great for the people on the run-n-n-n-n.........

I was looking for an easy recipe yesterday because I was having to be running around all day for my wedding that is in about 4 monthes. I didn't want to make anything that would take me forever to prepare. So, I found this recipe and decided that it was perfect, and it was. :) It was just what my Fiance and I needed after a long day of wedding...stuff :P It was great served over rice too. Thanks for a great recipe!
In a large skillet, melt shortening and brown chicken well.
Add onion soup mix, pineapple, and 2 cups water.
Simmer covered, 45 minutes or until chicken is tender.
Remove chicken to serving platter.
Blend flour with remaining water; stir into liquid in the skillet.
Cook, stirring constantly, until thickened; Pour over chicken.