Pineapple Mustard Pork Loin
vrvrvr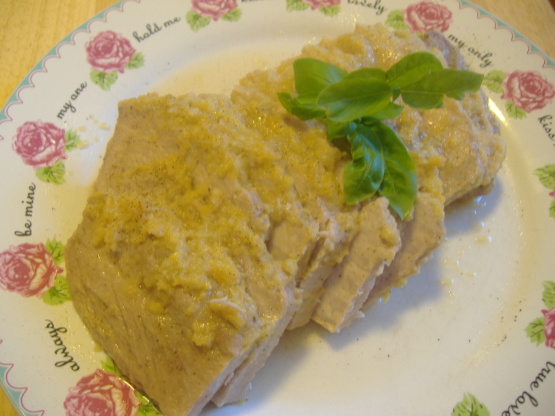 I found this Recipe in the Sunday Paper-Louisville, KY. Sounds great! Complement meat with another recipe I am posting (Fruity Dressing For Pork).

My husband loved this recipe. It was so easy to make. The ingredients were on hand and it took no more than 5 minutes to whip up. The best thing is the small marinating time. The meat could have cooked for a little longer, perhaps another 10 minutes.
Score surface of pork by making 1/4-inch deep criss-cross cuts on top surface of the meat.
Combine remaining ingredients and rub entire surface of pork.
Refrigerate in a container with the marinade for at least 30 minutes (or overnight to enhance the flavors). Remove meat from marinade and place on aluminum foil.
Spoon remaining marinade over meat.
Wrap tightly and bake at 375° for 50 minutes, or until no longer pink.
Allow meat to sit for ten minutes before slicing into thin strips.
Drizzle remaining cooked juices from the foil on meat, if desired.