Pineapple Mousse La Lorraine
Kathy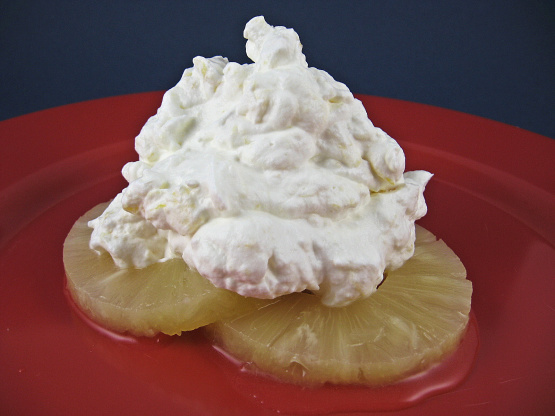 The chef of La Lorraine in Mexico City shared this recipe secretly with me during the '60's. The stern Mme. who owned the restaurant would have been appalled. I'm sure the restaurant is long gone so I offer this in homage. While seemingly easy the result is velvety, rich, sweet, yet tart. At the restaurant it was served in a pre-baked tart shell. I have served it without and have even used it as frosting on a white cake.

Top Review by Kathy
I was in a quandary over how to rate this recipe. I don't consider this a mousse, but rather a flavored whipped cream. As a mousse, I would not rate this recipe highly, but since I'm considering this to be a flavored whipped cream, I give it 5-stars. I used sugar-free Jell-O, and that worked well. I served this recipe as a topping over pineapple rings and it made for a nice, light dessert.
1

(6 ounce) package lemon Jell-O gelatin

1

(20 ounce) can crushed pineapple, undrained

2

pints whipping cream
Heat the crushed pineapple and it's juice, but don't boil.
Remove from the heat and dissolve the Jello in it.
Allow to cool and begin to set.
Whip the cream to stiff peaks.
Fold the mixtures together.
Chill until set.
Fill a pre-baked tart shell or serve in a fancy bowl or frost a cake.