Pineapple, Mandarin, Ginger Chicken Breasts
Derf2440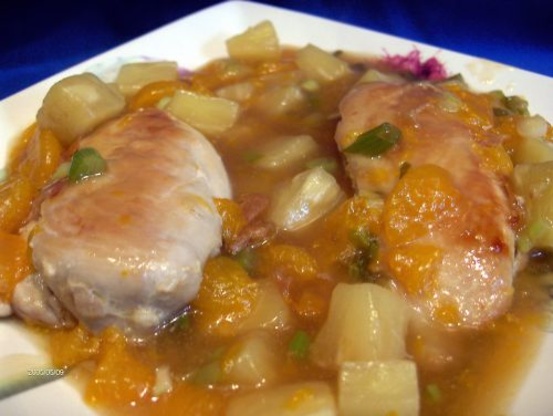 Beautiful presentation and a taste sensation.Very easy quick recipe to prepare. This recipe was originally from "Mealtime"
Brown & cook the peppered chicken breasts in the tbsp of oil, cook until internal temperature reaches 170F (apprx 12 minutes).Brown evenly on all sides.
Transfer to a platter and keep warm.
While the chicken is cooking gather your sauce ingredients.
Drain your orange & Pineapple juices into a bowl, stir in the cornstarch.
Pour juice into the skillet, over medium heat, add remaining ingredients, stir and bring to a simmer.
Cook until thickened (3-4 minutes).
Return Chicken to skillet, heat through & serve.