Pineapple Lemon Jam (With Pomona's Universal Pectin)
Kathy228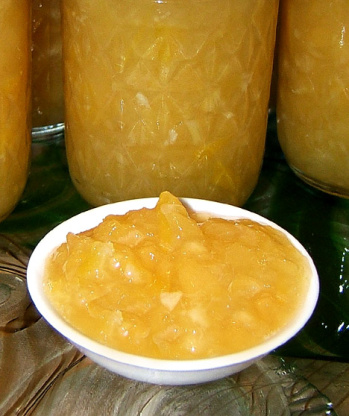 Delicious mixed with plain yogurt; poured on a block of cream cheese as an appetizer; on buttered toast and english muffins. Oranges can be used instead of lemons and that's delicious too. But don't use fresh pineapple because the enzymes in fresh pineapple may prevent a good jel. Refrigerate OPENED jars and then use within 4-weeks. Unlike regular pectin, Pomona's gel is produced through very low sugar. Adding too much sugar will prevent proper gelling. But additional sugar CAN be added after the pectin has dissolved (see Step 14 below).
5-6

lemons

473.18

ml unsweetened crushed canned pineapple (20 oz can)

236.59

ml dry white wine or 236.59 ml water

14.78

ml universal pectin (Pomona's Universal Pectin)

14.78

ml calcium water (comes with Pomona's pectin)

709.77

ml sugar

4.92

ml butter
Prepare Pectin:.
Mix 3 teaspoons pectin (large envelope) with 3-cups sugar. Set aside.
Mix 1/2 teaspoons of the calcuim (sm. envelope) with 1/2 cup water. Set aside.
Scrub then peel the lemons.
Put the peels in a small sauce pan. Cover with water and simmer for 20-minutes or until the peel can be pierced with a fork. Drain, rinse, cool and chop the peel.
Remove the excess white pith from the peeled lemons.
Cut the peeled lemons in quarters. Slice out the white center membrane and discard.
Puree the peeled lemons in a food processor.
Into a heavy saucepan, measure 1 teaspoons butter, 2-cups lemon puree, 1-cup chopped peel, 2-cups undrained, crushed pineapple, and 1-cup of wine (for a total of 6-cups).
If you are short of the 6-cups, just add more wine, pineapple or lemon.
To the fruit in the pan, add 3 teaspoons prepared calcium water. (The rest of the calcium water can be saved in a little jar for up to two months in the fridge).
Bring to a hard boil and boil for one minute.
Add the sugar/pectin mixture and stir vigorously for 2-minutes allowing pectin to dissolve.
NOTE: At this point you can add an additional one-cup sugar to give the jam a longer "opened jar" refrigerator shelf life.
Bring back to a boil and boil hard for one minute. Skim foam if necessary.
Ladle into seven, sterilized half-pint jelly jars, and process only 5-mins.