Prep 30 mins
Cook 30 mins
This is a wonderfully sweet and spicy jelly, perfect poured over cream cheese and served with crackers or as a sandwich spread. I was a little taken back when I saw that this recipe called for 15 Habaneros, but it is not overwhelming hot the sweet pineapple is a perfect balance. Be sure to wear rubber gloves or disposable latex gloves when cutting up the Habanero peppers and don't touch your eyes or mouth - they are HOT!
Directions
In Blender or Food Processor combine Habaneros, Bell Pepper, Pineapple and Vinegar, chop fine.
Bring to a boil on Medium/High heat, boil for 10 minutes, stirring constanly.
Add Fruit Pectin, stir until dissolved.
Add Sugar, stir until dissolved.
Return to a boil and hard boil for 2 minutes, stirring occasionally, mixture will thicken as it boils.
Remove from Heat and Skim Foam.
Ladle into sterilized 4oz Jars leaving 1/8"Headspace.
Seal and process in boiling water bath for 5 minutes.
I typically yield 12-14 of the 4 oz jars. May take 1 to 2 days for the jelly to set.
Reviews
Most Helpful
Very nice balance of flavors. Using 2 cans crushed pineapple, 2 cups each, yielded 1 1/2 quarts of product (about 20 4 ounce jars) and would not jell well after several days. Suspect pectin should be doubled if you use these items. I elected to remove habanero seeds and ribs prior to chopping them up. Very good on cream cheese, as a glaze for baked chicken or as a dipping sauce for fried coconut shrimp.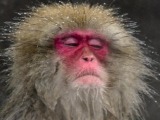 LOVE this jelly! I'd had something similar from the store and wanted to make my own. This turned out even better than the original! <br/>I used 1 pineapple plus to serving spoons of (drained) crushed pineapple. <br/>I also substituted apple cider vinegar for the white, and used 8 TBSP of Clear-jel for thickening. <br/>This was a big hit with my family!
Love making this. We use it on paratha bread and as a condiment with cheese. One note- you must use fresh pineapple. Something about canned pineapple makes it not gel. One pineapple will be enough to make the recipe.