Pineapple Ghost Chili Sauce
Rita1652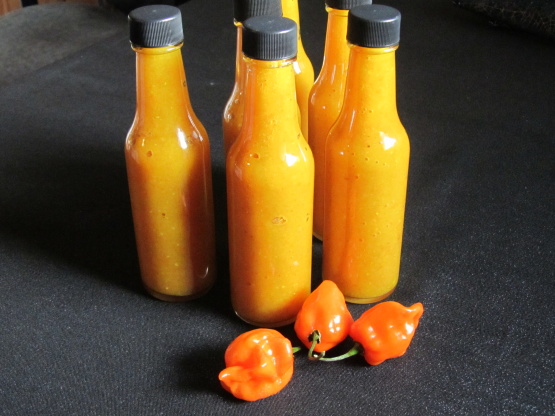 Serious Sweet Pain! Butt Jolokia is also known as the Ghost Pepper over 1 million scoville units. That's 3 times hotter then the habanero! Gloves are a must when preparing the ghost chili's. Check here for bottling the sauce http://www.leeners.com/hotsauce-about-bottling.html here for the bottles http://www.leeners.com/condiments-bottling.html I filled 6 Woozy bottles with the fitments droppers. It may have to be removed for easier pouring.

Top Review by QG6380
I just made this last night, so I can't comment on the flavor after a week. The sauce is very good, and very hot. I used two whole ripe ghost chiles, seeds and all. I used a blender, then cooked the sauce, then blended again. I didn't have any bottles, so I water-bath canned this in half-pint jars. The sauce is very runny, so bottles would be recommended.
Place all but the vinegar in a food processor and pulse till pureed. Add to pot with vinegar and cook 15 minutes. If needed blend again for a smooth sauce.
Fill hot sauce into sterilized hot bottles or jars.
Place in a hot water bath for 10 minutes.
Let age for at least 1 week.