Pineapple-Coconut Squares
najwa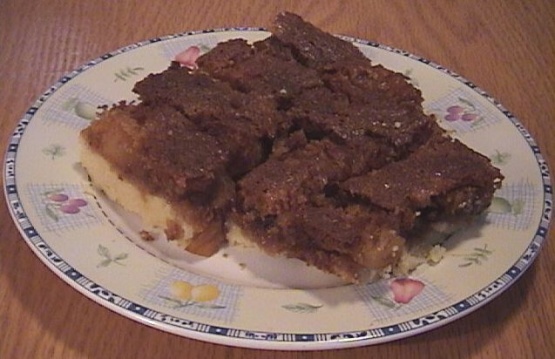 Oh yummmmmmmmm-I love coconut and pineapple, and they are great together in this bar recipe!

Top Review by Boyz 5
I made these again using a dark T-fal type non-stick cake pan lined with tin foil.In my earlier review,I had mentioned that the base of this bar tasted uncooked.Well this time they turned out just great!!Nice and Brown!!Whether the pan made the difference or not,I'm not sure,However,I'm uping my previous rating on these nummmy tasting bars!!
Preheat oven to 350 degrees.
Place pineapple in a strainer over a bowl.
Reserve juice for another use.
In a medium bowl beat the butter and sugar together until well blended.
Stir in flour and salt until combined.
Press into an ungreased 8 inch square baking pan.
Press pineapple with a spoon to remove the remaining juice.
Sprinkle pineapple evenly over crust.
In a medium bowl beat the egg with brown sugar, coconut, vanilla and salt.
Gently spread coconut mixture over pineapple, keeping pineapple in place as best as you can.
Bake for 35 minutes or until topping is golden brown.
Remove from oven and cool completely on a wire rack.
Cut into squares.