Pineapple Cinnamon Cookies
twissis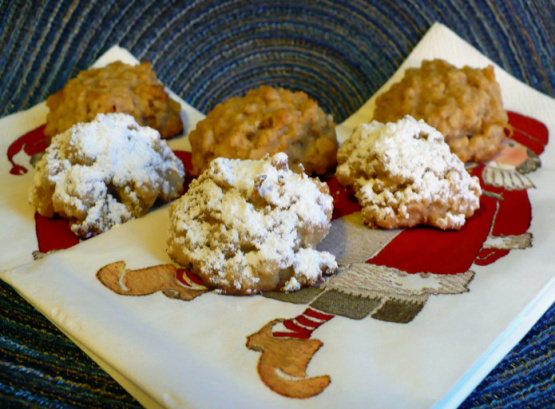 This came from a pineapple cookbook from the library. I haven't tried it yet.

My DH & the 2 dtrs of my best friend here in Iceland are partially (DH) or completely (the dtrs) dairy products restricted. So Magga & I are always looking for safe & tasty sweet treats for them & these cookies are 1 of my best finds. I made your recipe exactly as written except I used crushed pineapple vs tidbits (which I highly recommend) as I felt the crushed variety would incorporate easier & distribute the pineapple flavour more uniformly. Dropped by tbsp size, my yield was 32 cookies. Given that the entire recipe was amazingly only 1,262 cals, ea of my cookies was less than 40 cals! The cookies were soft as "clouds", full of flavour & perfectly baked at 13 min. They're not among the prettiest cookies I've made, but I "dressed up" a few w/a powd sugar dusting. My DH purist favoured them plain. This recipe has already been shared w/Magga, so thx for sharing this recipe w/us. - Pic will post later today. :-)
Cream butter and sugar together. Beat in egg and vanilla.
Sift together the flour, baking powder and salt. Stir flour mixture into the batter.
Add remaining ingredients. Combine well.
Drop by rounded teaspoonfuls onto parchment lined cookie sheets. Flatten slightly.
Bake for 12-15 minutes at 350 degrees.