Pineapple Chicken Tenders
teresas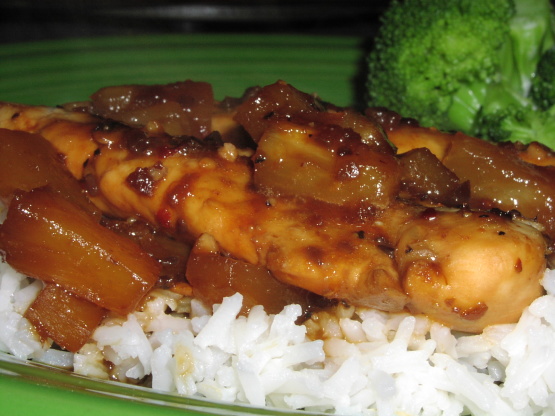 This is a quick and easy recipe to make on a weeknight or for someone with a crazy schedule. A dash of crushed red pepper can be added if you like a little spice. I adapted this recipe from Kraft.
Preheat oven to 400°F.
Place chicken in a greased 13x9-inch pan.
Combine salt, pepper, and ginger in a small bowl. Season chicken with the mixture.
Drain pineapple, reserving 1/3 cup juice. Mix sauce, pineapple, minced garlic, and reserved juice. Add to chicken; stir to evenly coat chicken.
Bake 30 minutes or until chicken is done and sauce is thickened.
Serve over hot rice.