Pamela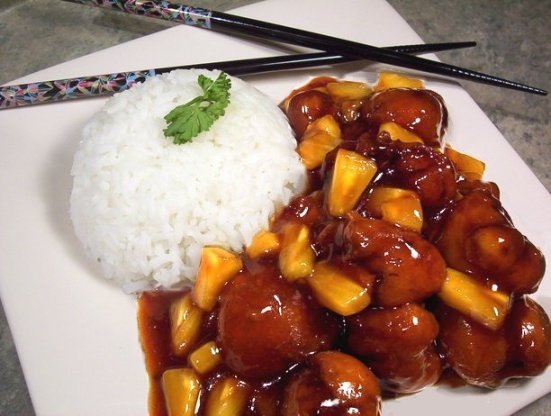 Better than take-out! This is a little bit time consuming, but SO worth the effort!
Combine chicken pieces, salt, soya sauce and chicken soup base; let sit for 10 minutes.
To make batter, mix Bisquick, eggs, milk, salt and second amount of chicken soup base (should be consistency of pancake batter).
Add chicken mixture to batter.
Drop by spoonfuls into hot fat and deep fry until brown, making sure the chicken inside is cooked (if the chicken pieces are small and if you use medium heat, the chicken should be cooked by the time the batter is nicely browned).
For sauce, cook together the sugar, second amount of soya sauce, cornstarch, water, vinegar and juice from pineapple until it is thick and clear.
Remove from heat and add pineapple tidbits.
To serve, pour sauce over chicken.
Serve over rice.