alligirl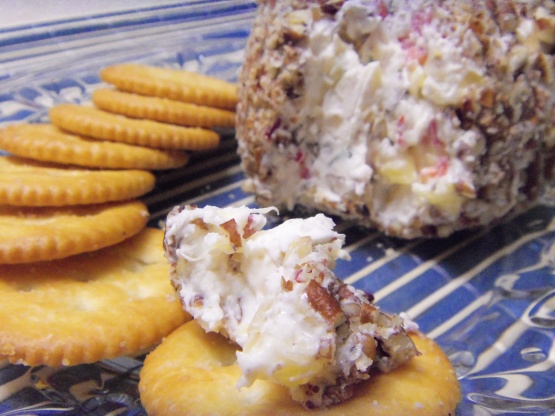 I received this recipe from a friend at work. Love this recipe because it is delicious and works up in a few minutes. Just the right touch of sweet vs. savory. Cook time is actually refrigerator time.

Hi Jellyqueen, This is a great recipe. I have made it 6 times for friends and family and everyone LOVED it. I added it to our recipe book at work(I'm a cook by trade)I did use 1/8 cup red bell peppers and 1/8 cup green bell peppers and sweet red onion...for different colors. I have found the longer it sits in the freg the better the flavors mix.So now if I'm doing a party I will make it 2 days before. I must say it is a big winner in our town.Anyone that want's a great cheese log..Be sure and try this one. Thanks
Mix all the ingredients, using only 1 cup of the pecans listed and form into a ball.
Reserve 2nd cup of pecans for topping.
Refrigerate overnight.
Before serving, roll cheese ball in reserved cup of pecans.
Serve with crackers of choice.