Pixie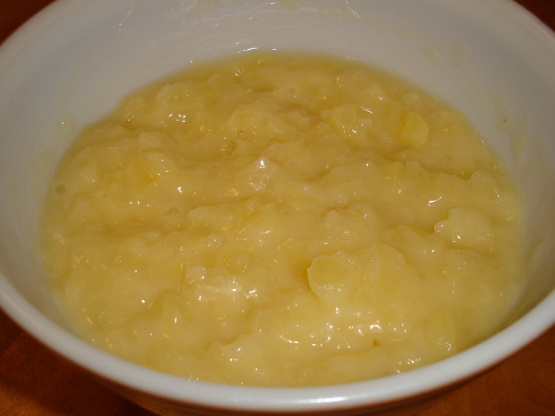 I got this recipe from my cake decorating instructor. It's very simple, but absolutely delicious. We also like to spoon it over ice cream. This recipe will fill a 9", 10" or 9x13 cake.

I needed a last-minute filling for a cake I was baking and decorating for memorial day. I found and decided to try this recipe since I had can of pineapple chunks in the house. I'm so glad I did! I processed the pineapple in my small tabletop electric chopper, which gives a coarser texture than a blender or procxessor, and it was the same as using crushed. I also added maybe a teaspoon extra of cornstarch, which I always do in these types of recipes, just to make sure it's not too runny. It was the perfet consistency, spread well and held the layers well. The flavor was excellent, not too tart, not too sweet, and it seemed to compliment tbe yellow cake, decorator icing, and marshmallow fondant I used to decorate with perfectly. I had made a flag, and got lots of kudos, not only on the look but on the flavor as well. Everyone was impressed! Thank you! This will be my filling of choice from now on and I highly recommend it.
In heavy saucepan combine cornstarch, all of the sugar and salt.
Add pineapple with juice and mix well.
Cook over medium heat until mixture comes to a bubbling boil, stirring constantly.
Once mixture comes to a boil continue stirring constantly for approximately 5 minutes, or until thickened and its looses it's "milky" look.
Remove from heat and add butter, stirring to melt.
Let cool then store in refrigerator.