diner524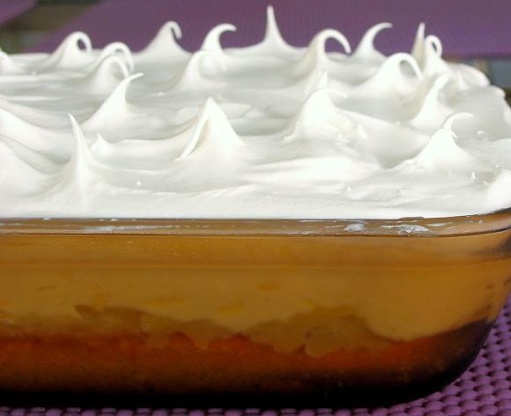 This recipe came from my SIL's church cookbook.
I picked this cake to make for the cake-a-thon for ChefIAm. This is very similar to a cake my mother used to make years ago. I think my mother's recipe just used the pudding without the added cream cheese. The cream cheese is where I had the problem, it separated from the pudding mixture while mixing it all together. I would change directions to say, soften cream cheese to room temperature, mix pudding and two cups milk, then fold in soften cream cheese. This is a delicious, not too sweet, moist cake. Will definitely be making this again with the above recommended changes.
Mix cake as directed on package and bake in greased 9x11 glass dish until done.
Watch carefully not to overcook because it will be thinner than usual.
Let cool.
Mix together cream cheese, vanilla pudding, and milk.
Pour over cake in the glass dish.
Layer pineapple, Cool Whip and nuts. Refrigerate. .