Sara 76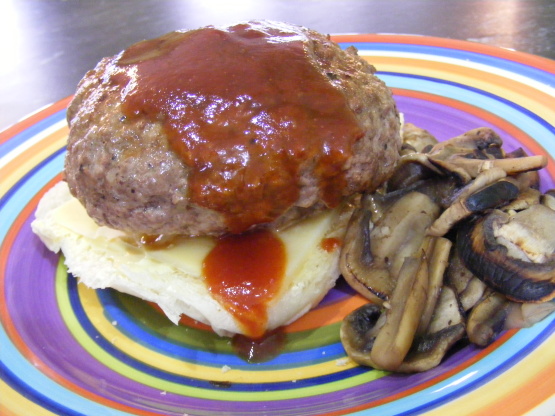 a hawaiian tasting hamburger, it came out of a cancer charity cookbook.

Based on other reviews, I seasoned the burgers with salt and pepper, but they were still just a big ball of meat, and I just didn't like them at all, I'm sorry. Also, it says it serves 4, but when you read the recipe, it only makes 2 burgers. This was a little confusing, but luckily I had extra mince in the freezer. I did enjoy the sauce though, and I still like the concept of the pineapple inside the burger, I just think it needs a better burger recipe. The kids and I couldn't finish ours, so I was going to rate it a 2, but hubby didn't mind them, so I changed to a 3.
Divide meat into 4 equal patties.
Drain pineapple.
Put 1-1/2 slices on each of two patties.
Put remaining patties on top of pineapple-meat patties and seal edges (You now have two meat patties with pineapples inside).
Broil patties to desired doneness.
SAUCE: Put ketchup, brown sugar,and mustard into saucepan, heat over low heat until bubbly,stirring so sugar does not stick.
Remove burgers when done, and pour sauce over burgers.
Serve with dinner roll, or rice.