Pineapple Brown Sugar Cookies
Pamela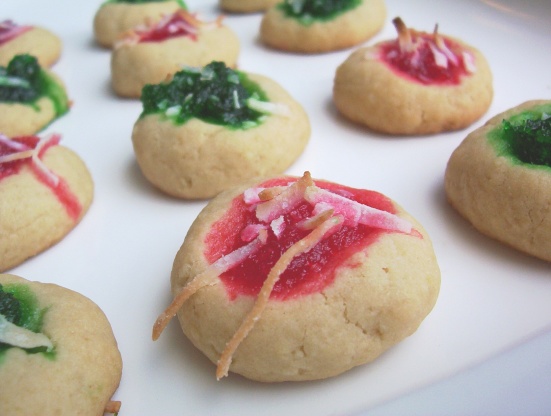 Chewy sweet and festive! You can use Pineapple Filling, prepared pineapple filling, or pineapple preserves.

These are OUTSTANDING cookies! They are very simple to prepare and look so beautiful and unusual. The SOLO brand pineapple filling is not available where I live, so I used pineapple preserves, as the recipe poster suggests in her description. The combination of the pineapple preserves and the sprinkling of coconut on top combined with the very rich,brown sugar cookie base is a great taste combo. I am putting this recipe on my permament holiday cookie baking list (I only add one or two a year at most - these are that special).
Cream together butter and brown sugar.
Beat in egg and vanilla.
Stir together flour and baking powder.
slowly add to creamed butter.
Chill 1/2 hour.
Roll one tablespoon of dough, make thumb print to fill with colored pineapple.
Sprinkle with coconut.
Bake 400° for 8-10 minutes or until pale golden.