3 Reviews
What a great recipe! This is SO easy and quick to throw together. I made exactly as written except for using 8 slices fresh Wonder Stoneground Whole Wheat Bread, and I added 1/4 teaspoon lemon zest into the lemon juice. Beautiful texture, great flavor. I was able to take it out of the souffle pan in one piece onto a plate, and then flip it onto a second plate right-side up, so this would lend itself to a very fancy presentation - but we were eager to try it and just cut big pieces of it, served with slices of fresh pineapple and whipped cream. This is definitely a keeper. Thanks for a great dessert, Mirj!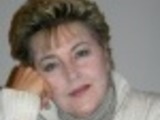 This was great and very pretty too! Thanks for sharing.

We are really enjoying this!! When I went to make it...I realized there wasn't any milk in it...hoping it wasn't a typo lol It came out perfect! I skipped the ice cream...but it was perfect with a little whipping cream!!! Thanks Mirj!!

Pineapple Bread Pudding