Derf2440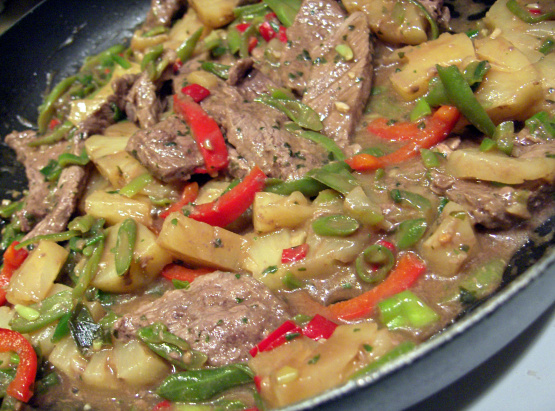 Wonderful recipe. This truly is great!

Wow, this was a tasty dish. Loved it. IMHO, there should be more soy sauce and/or salt. Thanks for sharing.
Drain pineapple, reserving 1 cup of chunks, 1/2 cup juice (reserving juice for other purposes).
Combine 1/2 cup of the juice, ginger, soy sauce, cilantro and meat in bowl.
Cover bowl, marinate for 15 minutes.
In large, nonstick skillet, heat oil, add garlic, sauté 30 seconds, until fragrant.
Remove the meat from the marinade, place in the skillet.
Stir fry 5 minutes, just until cooked through, remove the meat and keep warm.
Combine marinade and cornstarch in bowl.
Add the beans, chilies, pepper and marinade to skillet; stir fry 4 minutes (or until veggies are crisp tender and mixture is thickened).
Stir in 1 cup pineapple chunks, scallions and meat; heat through.