Nimz1466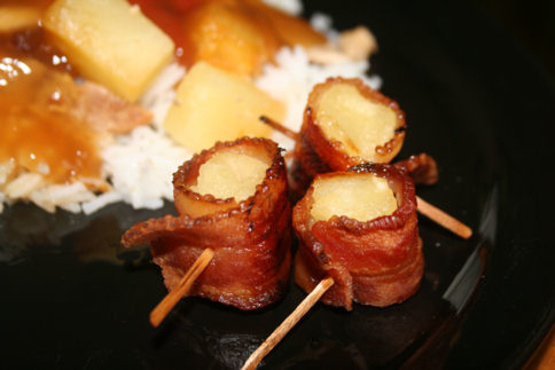 This is adapted from the Company's Coming Appetizers cookbook. These are a great addition to any appetizer tray. They are easily recognized and readily welcomed!

I had to take these away from DH so that I could get a photo for PAC that are that good. This is going into my favorite book. Just wonderful. I did my bacon in the microwave for 3 minutes and it was perfect to wrap around the pineapple. Done to perfection in the stated 15 minutes. Thanks Saturn Made for PAC Spring 2010 :)
Fry bacon until clear and still soft. Do not cook completely or it won't roll when cool.
Depending on the length of bacon slices, cut crosswise into 2 or 3 pieces.
Wrap bacon around pineapple, securing with a toothpick.
Place in a shallow baking pan.
Bake in 350°F (180°C) oven for about 15 minutes or until bacon is cooked.
May also be broiled.
Variation: Use dates instead of pineapple.