twissis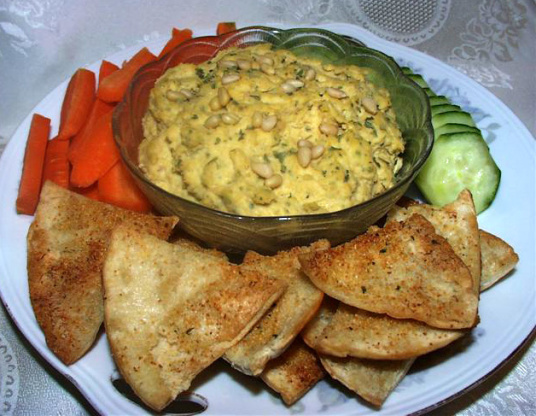 This is my take on Hummus. There is never enough garlic in the recipes I've tried so I really increased the amount. This is a recipe that seems to never come out quite the same. I don't adjust the garbanzo or tahini amounts but definitely adjust the amount of water for consistency, the garlic and spices etc. to suit your taste. This is a nice quick appetizer for pot lucks or parties. It can easily be made a day or too ahead of time.

Chickpeas are very popular here in Iceland & DH is esp fond of using them. I am esp fond of hummus, so this was a good choice for us. I made a half recipe as written & esp liked the extra garlic, but had to use dried cilantro. I was a little afraid of getting it too thin & in the process got it more thick than ideal for dipping (esp after it sat in the fridge to chill), so I will correct for that next time. I served it w/carrot sticks, sliced cucumber & crisped pita bread brushed lightly w/olive oil & sprinkled w/garlic powder. All 3 were excellent w/the hummus. Thx for sharing this great recipe w/us. :-)
On a cutting board mince and mash the garlic to a paste with the salt.
In a food processor puree the garbanzo/chickpeas with the garlic paste, the tahini, the lemon juice, the oil, and water, scraping down the sides, until the hummus is smooth. Add salt or more lemon juice to taste.
Add water if necessary, to thin the hummus to the desired consistency (it should not be too thick).
Add dashes of hot sauce, 1 cup coarsely chopped cilantro and 2 tablespoons pine nuts. Pulse the processor a few times to incorporate the nuts and cilantro.
Taste, and adjust seasoning to your taste.
Transfer hummus to a serving bowl, garnish with remaining whole pine nuts and chopped cilantro. Serve hummus with veggies, pita bread, naan etc.