Pine Nut Cake With Poached Cherries and Caramel Sauce
Rita1652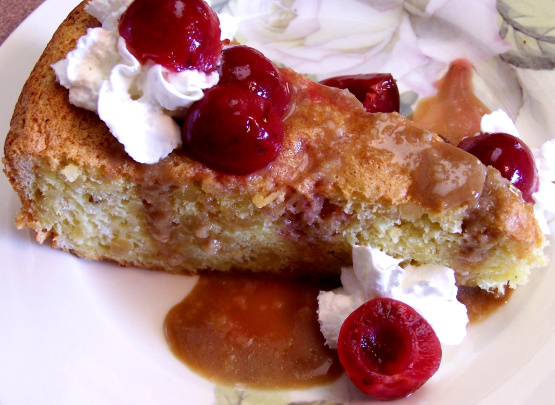 Rita, this is a FANTASTIC recipe!!! The pine nuts have a unique flavour which I like very much, and the combination of this spongy, not too sweet cake with the slightly tart fruit is to melt away! I made it gluten free with a mix of rice flour and arrowroot starch instead of flour, and I omitted 1 egg because I had to use rice syrup as a sweetener, but this worked great. Also I didn't make one cake but 12 pretty cupcakes which only took 20 minutes to bake. For DH I made the poached cherries and caramel sauce, for myself I made something similar with cranberries :D This will be a keeper for sure, thanks for posting! Made for Think Pink October 2009.
Preheat oven to 350.
Butter a 10" springform pan.
In food processor combine nuts, flour and baking powder. Pulse to chop nuts finely.
In large bowl, beat egg yolks and sugar together till light add vanilla and mix inches.
In another bowl, beat egg whites until stiff.
Fold whites into yolk mixture.
Fold in nut mixture.
Spoon into cake pan.
Bake 30 minutes until golden.
Top with garnishes of choice.