momaphet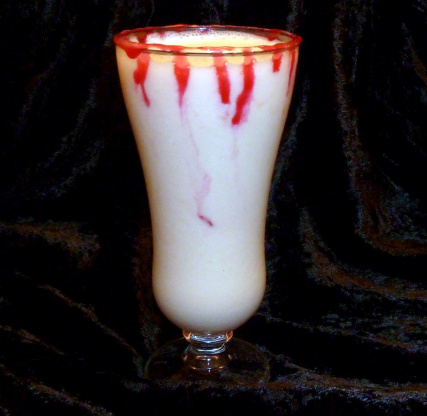 I got this recipe from the Martha Stewart website. With a twist to that favorite tropical pina colada cocktail, this becomes the perfect Halloween cocktail or mocktail for nearly any party theme. It's acceptable even for a kids party, because you can easily prepare the drink mix without the alcohol, and it's still a tasty beverage that most kids really like. All it is simply adding a twist to that all-time favorite cocktail (or mocktail)--the pina colada--by adding a "dripping blood" effect to the glasses. These will be the perfect complement to your Halloween buffet table.
This drink was quite tasty! I made a single serving, used the rum, and subbed half and half for the cream, I ended up doubling this to cut some of the sweetness common to all Pina Coladas.
The bloody edge looked fun but tastes icky, a straw is a must, also I would be concerned serving this to younger kids as it's pretty sticky and messy to touch and the food coloring stains. I did have to use a chopstick dipped in the goo to create the drips as most wouldn't drip on their own. Made for Please Review My Recipe Tag.
Pour the corn syrup into a shallow bowl.
Dip a toothpick into the red food coloring, and stir a very small amount of the food coloring into the corn syrup; stir until it looks like blood.
Hold one glass by the stem, and dip the rim of the glass into the red syrup and turn the glass to coat the entire rim.
Turn glass upright. Allow the syrup to drip down the sides of the glass (to resemble dripping blood). Dip the remaining glass in the same manner. Set the glasses aside.
To make the pina colada mix, whisk together the pineapple juice, cream of coconut, cream, orange juice and rum (if using).
Place about 2 to 2 1/2 cups of ice cubes in a blender, and add 1 cup of the drink mixture. Blend until smooth. Add more pineapple juice (not more pina colada mix) if mixture is too thick.
Carefully pour the pina colada mix into the cocktail glasses, being careful not to disrupt the "bloody" red rims.
Repeat with remaining drink mixture and ice.