gailanng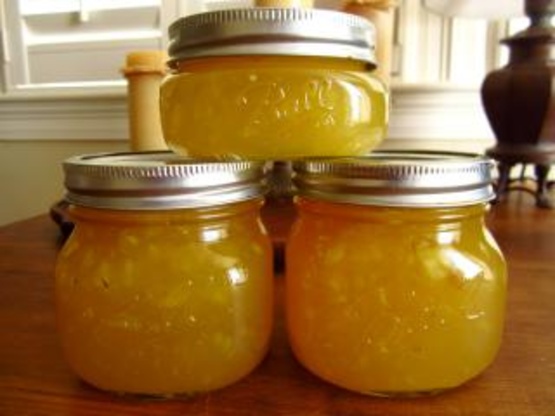 If you like pina coladas, you'll like this! It is perfect to warm and serve as a dip for coconut shrimp or coconut chicken strips. It can be used as a cake filling or for crepes. I, personally, prefer it right off the spoon. :) A friend sent this recipe to me knowing that I like "different" kinds of jams and jellies...and I like pina coladas also. Cooking time does not include time for water to boil in canner. Prep and cooking times are estimates.

MY OH MY - This is wonderful stuff! I had Malibu Coconut Rum so I used that instead of plain white rum just because I could. I can't say whether or not it set up because I just finished making it so it's still warm in the jars, but I had a little bit left over so I'm eating it by the spoonful - YUMMY! I got 8 half pint jars and will probably go buy another pineapple so I can make some more. I really don't care if it doesn't set up because it would be wonderful over ice cream or drizzled over cheesecake or just about anything you can think of even an old shoe sole - LOL!
In a large heavy bottomed pot, mix together pineapple puree, cream of coconut, rum, and lemon juice.
Stir in sugar and bring to a full rolling boil (one that can't be stirred down) over high heat.
Stir constantly, boil hard for three minutes.
Remove from heat and stir in pectin.
Skim off any foam.
Ladle into sterilized jars to within 1/4 inch of rim. Wipe rim clean.
Apply lids and rings and tighten rings just fingertip tight.
Process jars in boiling water bath canner for 5 minutes.
Let sit at room temperature until set.
Check seals -- center of lids should be indented.
Refrigerate any unsealed jar up to 3 weeks.
NOTE: Do NOT use coconut milk!
This made 9 half pints and 1 quarter pint(1/2 cup).