Pillsbury's Scottish Reels
Annacia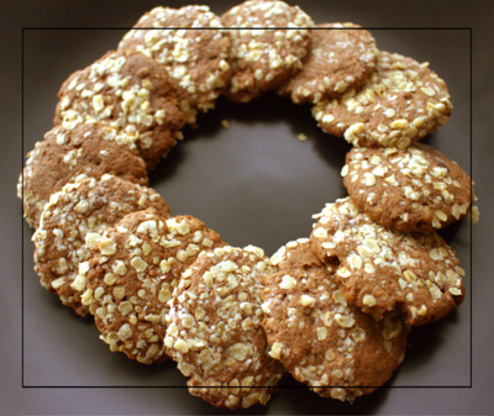 A bakeoff recipe; I haven't tried it yet. They frosted theirs with a chocolate cream cheese frosting. You could either make this from scratch or choose a tub of premade chocolate frosting.

Yummy yummy cookies. I made a half batch (30 cookies) just for me. Used Splenda Brown and 95% fat free cream cheese. The cookies are easy to make but I did have some trouble with the oiled glass and sugared oats. I found it easier in the long run toy just flatten the cookie balls and then drop the oats on by hand and spread them with my fingers. I love them without the icing but it wouldn't be a wise choice choice for me. For anyone not sugar challenged I think the icing would be a benefit. I baked for the minimum time and they were nicely done to my liking in that time.
Melt the chocolate; I prefer melting in the microwave for just a few seconds, stirring, repeat until it's done.
Combine that and everything else except the topping stuff. Chill at least 1 hour.
Combine oats and 2 T. confectioners sugar.
Drop chilled dough by rounded teaspoon onto greased cookie sheets. Flatten to about 1/4-inch with glass greased and dipped in the oat and sugar mixture.
Bake at 350 for 12 - 15 minutes. Cool; then frost.