Pillsbury's Chocolate Shadows
Annacia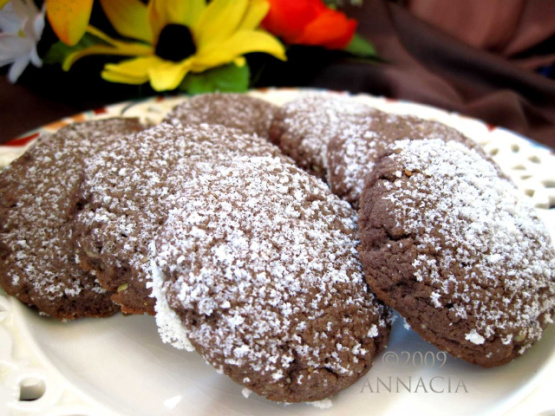 This is a bakeoff recipe. I haven't tried it yet.

These are some serious good cookies. I made a half recipe and got 18 cookies. I need to say that the recipe ask for 5/8 cup of flour, I used 1/2 cup +1 tablespoon, after the cookie dough was complete I needed to add another 2 1/3 tablespoons as the dough was too soft to hold a ball shape. Adams crunchy peanut butter was used and Merckens dark chocolate. Don't skip the small touch of peppermint it really adds the elevating touch. 8 mins produces a wonderfully soft cookie that fills your mouth with chocolate peanut butter goodness. Made for Photo Tag.
In a small saucepan, melt the chocolate chips over low, stirring constantly. Remove from heat. Stir in pepper extract. Set aside in cool.
In a large bowl, combine remaining incredients. Blend well. Stir in melted chocolate, only until till blended, not overly.
Shape into balls, using a rounded teaspoon. Place on ungreased cookie sheets. Flatten with bottom of glass, which has been greased and dipped into sugar.
Bake at 375 for 8-10 minutes. Cool.