Pig Sandwich Like Hard Rock Cafe
PaulaG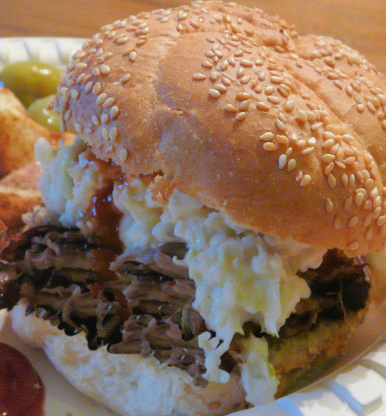 Pulled pork sandwich with sauce and coleslaw - all 3 can be made ahead.
Top Review by PaulaG
The end result was very good; however, I did make some substantial changes to the recipe. First, I reduced the amount of marinade for the pork by half and found that to be enough for the 3 lbs of meat. Second, the meat was not tender in the amount specified. The temperature was lowered and the pork shoulder covered with foil and cooked for several hours on low temperature. The coleslaw was to tart for our taste and I used another recipe to complete the slaw. The sauce is delicious and something I would make again. Made for *PAC Spring 2008*
Pulled Pork:
In a large bowl, combine vinegar, Tabasco sauce and sugar with hot water. Stir till sugar is dissolved.
Pour marinade over pork, cover and refrigerate for at least 12 hours.
Preheat oven to 450°F Remove pork from marinade and place in a baking pan. Cook in the oven until well browned.
Remove pork from oven. Pour some marinade over pork, lower temperature to 300°F, cover with foil.
Return pork to oven and slow-roast for an additional two hours or until meat pulls away easily from the bone.
Coleslaw:
In a large bowl, mix sugar, vinegar and water with a wire whisk. Stir until the sugar is dissolved.
Add shredded cabbage and mix well. Cover and refrigerate.
Sauce:
Place all ingredients except the vegetable oil in a saucepan. Bring to a boil, stirring occasionally.
When mixture has reached boiling stage, stir in vegetable oil till incorporated. Allow to simmer for 20 minutes, stirring occasionally.
Remove from heat. Pour into proper storage container, and cool in an ice bath to 40°F
Cover and refrigerate.
Assembly:
Toast hamburger buns.
Place the bottom of the toasted bun on the serving plate.
Place a level scoop of pork on the bottom of the toasted bun.
Place coleslaw on top of the meat, then ladle sauce over the slaw and meat.
Serve the sandwich open-faced with the top part of the bun on the side.
Serve immediately with a side of onion rings and beans.