Rachie P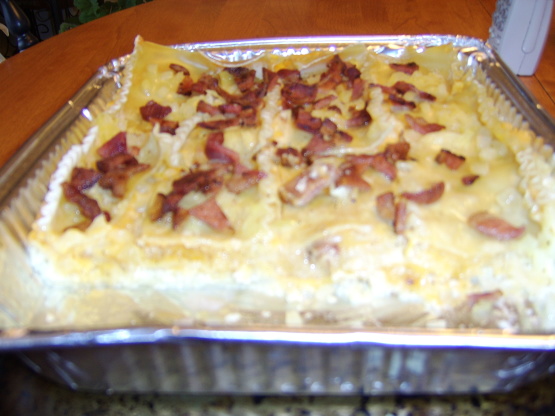 Kind of like one big perogie, very tasty

So good. I did used ricotta instead of cottage cheese (it's what I had) turned out very good, but next time I'm going to leave this layer out and double the potato cheese layer. I also used quite a bit more bacon, added green onions over the top when serving and left out the dill. Thank you for making it possible for me to mimic the classic taste that my Father-in-law makes only at Christmas! We love it!
Preheat oven to 350F degrees.
Cook noodles until just soft.
Rinse, set aside.
Lay 4 noodles in bottom of greased 9x13 pan.
Combine cottage cheese, egg and 1 teaspoons onion salt.
Spread over the 4 noodles in pan.
Lay 4 more noodles over top.
Combine the dill,cheese, mashed potatoes and 1 teaspoons onion salt.
Spread on the noodles in the pan.
Lay final 4 noodles on top.
Heat butter in a skillet and saute the onion and bacon until onion is soft and bacon bits are nearly cooked.
Pour over top of final noodle layer.
Cover and Bake 1/2 hour and serve with sour cream.