PIEROGIE CASSEROLE (WONDERFUL)
rpgaymer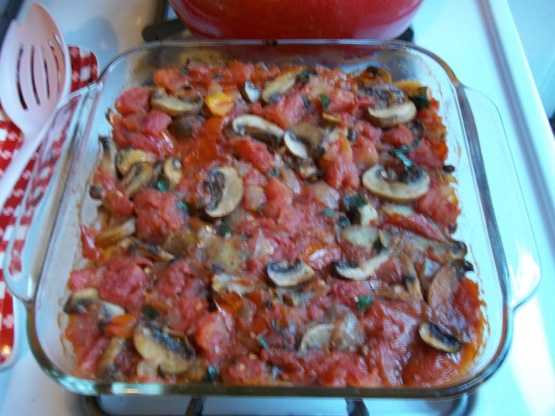 Frozen pierogies can be purchased at Costco and other supermarkets. I purchase mine from Schwan's.
This was decent. I'm Polish, so I grew up eating pierogis, and I've gotten so sick of them. This sounded like an interesting twist on regular pierogis, and all in all it's not a bad side dish. Next time I might skip the tomatoes though, they add too much acidity and Poles would never serve pierogies with tomatoes. The mushrooms and onions are a traditional topping though. My parents also liked chopped bacon on theirs as well, and I might try using that next time. This can also easily be served as a main dish if you use meat pierogis, which is nice.
Preheat oven to 350 degrees.
Prepare frozen pierogies according to package instructions.
Drain pierogies and set aside.
In a large skillet, add olive oil, onions and mushrooms and cook until golden brown.
Add all other ingredients to skillet, EXCEPT PIEROGIES, and simmer for 5 minutes.
Cover bottom of baking dish with prepared pierogies.
Drizzle olive oil over pierogies.
Then pour contents of skillet over the pierogies and bake at 350 degrees for 30 minutes.
Remove from oven and serve.