Parsley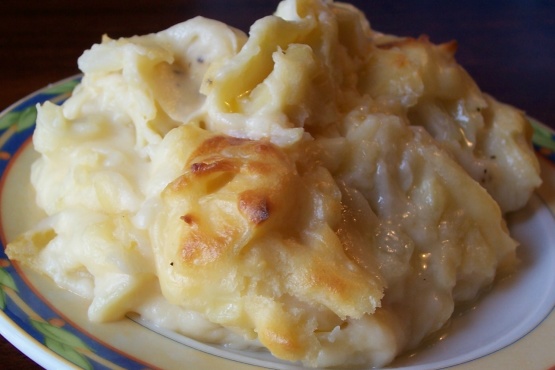 I substitute egg noodles for lasagna noodles to make this dish quick to make. I'm always asked to make it for picnics/parties. It goes a long way to feed a crowd since it is so rich. You can make it with or without the sauerkraut, or half and half like I do.

I just used this recipe as a guideline but it was good. I made half for my husband with just potatoes but on my side I added spinach and caramelized onions. I also left out the velveeta and just used more cheddar. Great to adapt to personal preferences. Perfect for the cold weather we're having.
Cook egg noodles according to package directions.
Meanwhile, make entire box of potatoes, omitting the butter/margarine called for.
Saute onions in the 1 cup butter (2 sticks).
Drain noodles when done; do not rinse.
While potatoes are hot, mix in onions/butter, and cubed Velveeta and cheddar cheeses.
Gently fold in cooked egg noodles.
Add sauerkraut here; if desired.
Pour mixture into 13" x 9" (or larger) baking dish.
Drizzle with melted 1/4 cup butter.
Bake at 350 degrees Fahrenheit for 45 minutes or just until top browns slightly.
This makes at least 16 servings. Since it is so rich, people generally take less.