Krsi Sue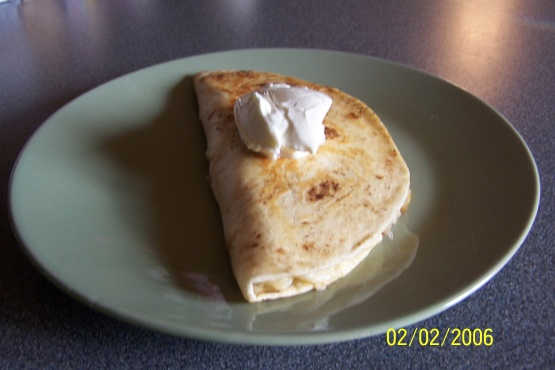 My mouth is exploding with flavor!!! This was easy and quite tasty. I made it 2 different ways - - as the recipe states, and for the 2nd one - - I used left-over scalloped potatoes & cheese instead of mashed. They were both very good. This will be made continually @ my house.
Spread mashed potatoes over one half of tortilla. Spread sauerkraut and onions over potatoes. Top evenly with cheese. Sprinkle with spices to taste. Fold tortilla over and grill until golden brown in hot skillet. Cut into wedges and serve with sour cream for dipping.
To caramelize onions, heat just enough olive oil or butter to thinly coat the bottom of a medium-size saute pan. Add onion slices in one layer and cook until they are golden brown, stirring after they caramelize on the bottom, about 10 minutes.