sheri77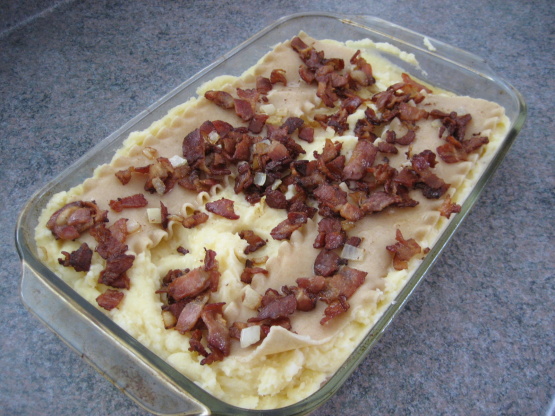 For the potato lover in everyone!

We really enjoyed this recipe. I didn't have any ricotta and only 1 cup cottage cheese so I added 1 cup sour cream also with a big more parm and asiago cheese. For the top layer we used butter instead of the oil but next time I think we will leave off because the bacon and its own grease would have been enough.
Cook lasagna noodles according to package directions.
Boil potatoes, then mash them together with the margarine, marble cheese, and salts.
Mix the ricotta cheese with the parmesean, egg, and garlic powder.
Alternate 3 noodles, then cheese mixture, 3 noodles, then potatoes. 3 noodles on top.
Saute onions with the oil & bacon in small pan. pour over top layer of noodles.
Bake covered at 375 for 45 minutes. Let sit 15 minutes before serving.